"Solar Safety Interior Films"
"Avery Dennison's Solar Safety interior films combine the shard protection of safety security films with excellent levels of energy efficiency for immediate energy savings, comfort and attractive appearance that achieve far more than passive glazing protection. Building codes and insurance policies often demand glazing that meets certain safety standards such as impact- resistant glass in schools to break-in or blast protection for retail locations.
Avery Dennison's Solar Safety interior films deliver exceptional solar and security solutions for the needs of industry, businesses and institutions."
R Silver safety interior window films combine the reinforced protection of security laminates with superb heat rejection, UV block, and sophisticated appearance. A choice of film thicknesses provides a solution for different security threats. R Silver 20 safety interior window film is available thicknesses of 4 mil and 9 mil.
NT PerLite Ceramic solar safety interior films are neutral grey in color and have excellent solar energy rejection that delivers comfort by cutting heat gain and glare. In addition, the reduced heat build up save on cooling costs while the film's safety and security characteristics provide protection from shattered glass. NT PerLite Ceramic 35 solar safety interior window film is available in thicknesses of 6 and 10 mil for varying hazard protection.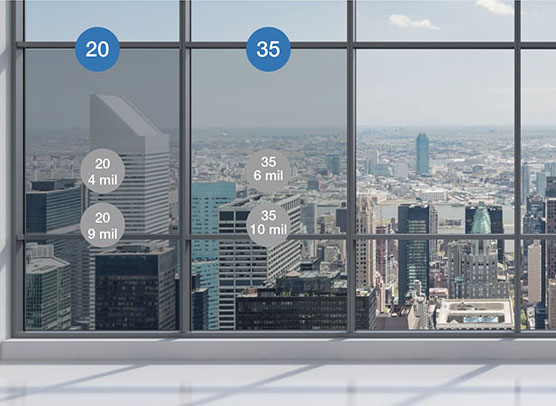 Solar Safety Interior Window Film Products provide:
Excellent solar heat and glare rejection for enhanced comfort

Increased protection from glass shattering by impact, blast, crime or natural disaster

High levels of energy efficiency for reduced energy consumption and carbon footprint

99% UV block to reduce fading and sun damage

Bold appearance upgrades building exterior and maintains daytime privacy